ABOUT DURMITOR TOUR
MH Travel Agency organizes English speaking tours, especially for a small number of guests (from 2 up to 20), and private tailor-made itineraries. Every guest in Montenegro, no matter where is accommodated (hotel, hostel, guest house, private apartment, cruise ship, campsite, luxury resort, etc) can participate in our tours. Look at the overview, highlights, itinerary, video presentation, photo gallery, terms, and conditions of the tour. If you like to take a seat on it you can easily make an online reservation, using the button BOOK NOW!

DURMITOR NP TOUR AND CANYONS WITH MH TRAVEL AGENCY
Durmitor National Park and Tara River Canyon have been a part of UNESCO World Heritage since 1980. Every effort to visit pearls of pure nature of Durmitor mountain massif and Tara river make worth it. There are a few standard itineraries among travel agencies for visiting North of Montenegro but we wanted to create a unique itinerary for our guests and we can proudly say that we did it.

We created a tour that gives the most complete experience of Durmitor and the canyons. When you have already decided to partake in a journey of nearly 200 km in one direction, we will give you a good reason why you should do it and not be disappointed.
In our opinion arriving in Durmitor National Park without a full feel of dramatic and wild nature, which makes two canyons, Morača canyon (the second deepest canyon in Montenegro) and the famous Tara River Canyon (the deepest canyon in Europe) cannot be complete. The culmination of this winding long road ride is the sensational bridge on the river Tara, and then the fascinating mountain massif of Durmitor.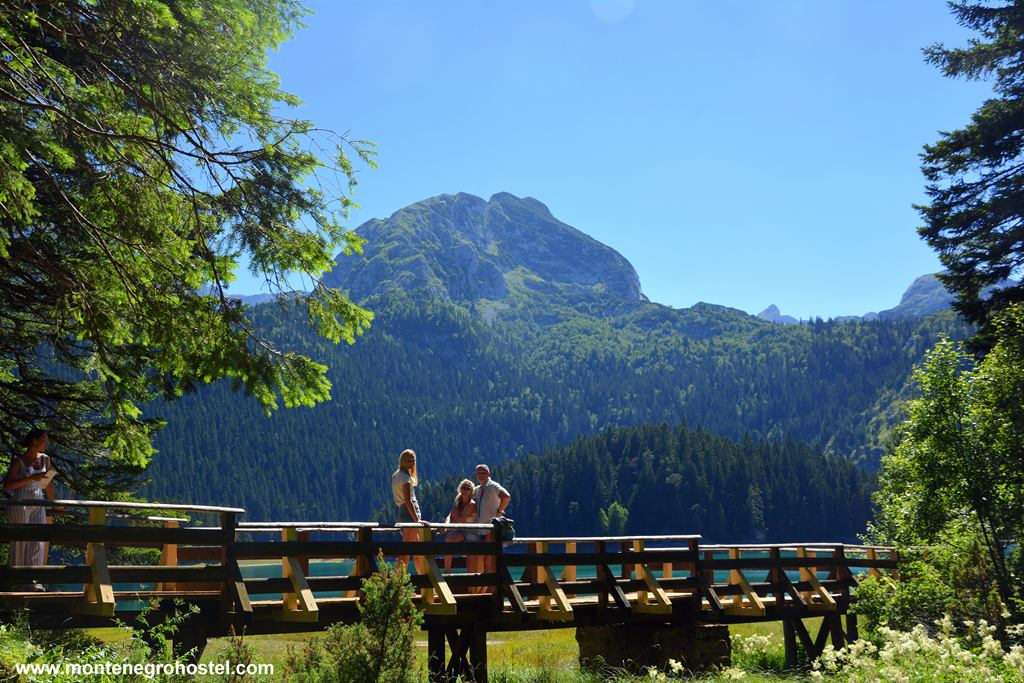 The tour has 7 highlights, and some of them are very unique like crossing the suspension iron bridge. Morning in the canyon of river Morača, early afternoon at the Tara Bridge and Black Lake, and sunset on Durmitor plateau and Komarnica region make the tour full of different experiences Do you want to have top-notch photos from this trip? Then come and join us :)
This tour takes 12-14 hours (depends on the departure city), but the memories of this tour will last forever. Welcome!
WHEN AND WHERE WILL WE START?
The tour departs from Kotor at 8 in the morning, which is the standard time for all our trips. After a maximum of 45 minutes of driving, we will arrive in Budva, where we will pick up guests. We will arrive in Podgorica 60 minutes later, picking up the guests and continue our journey. If guests take the private tour we will pick up them from their accommodations. Also, if guests stay in some accommodation close to our route (for example guests from Cetinje), we can pick them up on the main road. Pick-up location can be flexible sometimes if suits guest better than the standard one.
NOTE: MH Travel Agency is the only one in Kotor that organizes Durmitor National Tour via Morača River Canyon. That makes that the guests from Kotor will spend 14 hours on the tour.
WHERE WE WILL GO?
We will go to Moračica Bridge, Suspension Iron Morača Bridge, Morača Canyon, Crna Poda Virgin Forest, Tara Canyon, Tara Bridge (Đurđevića Tara Bridge), and Black Lake in Durmitor National Park.
MORAČICA BRIDGE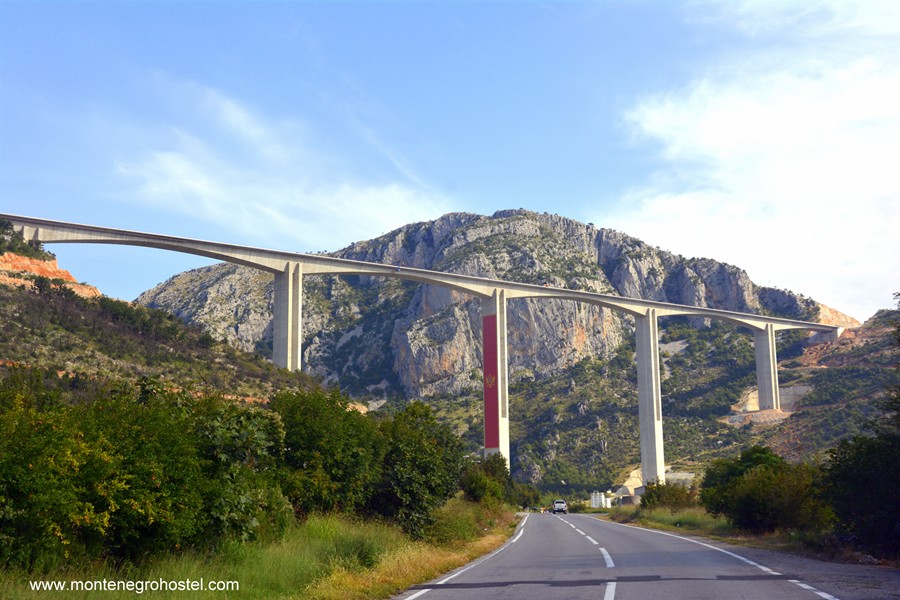 As soon as we leave Podgorica, the canyon of the Morača River begins on the 5th kilometer. The first attraction that you will see is the brand new Moračica Bridge. The bridge was built for the needs of the Podgorica-Kolašin highway, with a total length of 960 meters and with the longest span of 190 meters, which makes it the highest bridge in Montenegro and one of the highest in the Balkans. We will take a photo stop here and at 2 more places in the canyon. The canyon is on the right side of the road that makes that guests can watch it and take photos constantly, even during the ride.
SUSPENSION IRON BRIDGE OVER MORAČA RIVER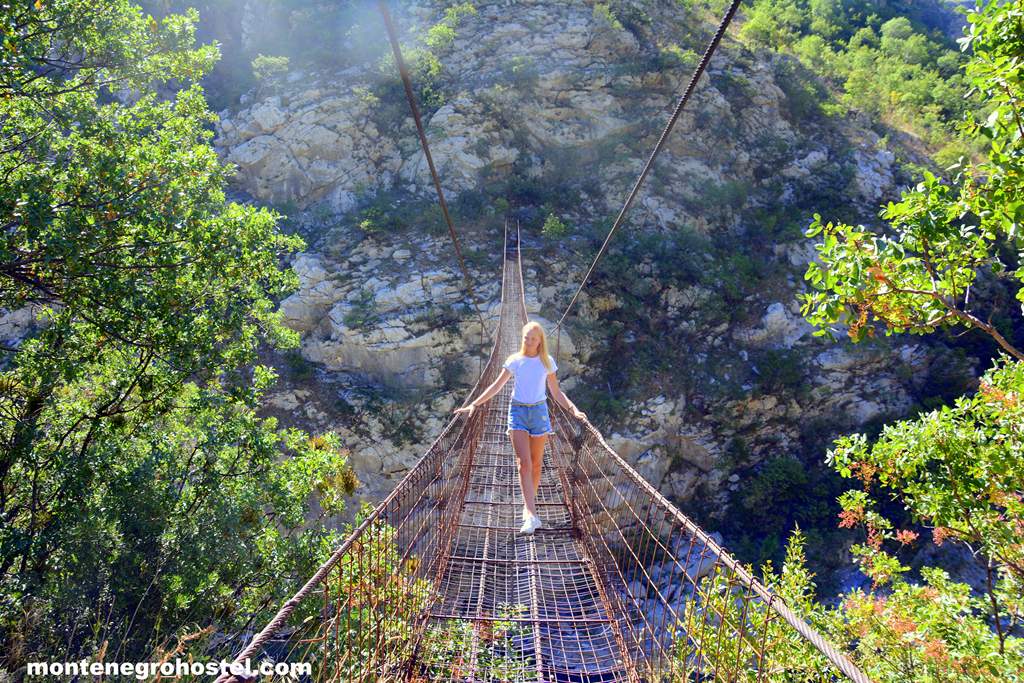 River Morača has a few suspension iron bridges, but this one is the biggest and the most attractive. This bridge connects the main road with the few houses from the opposite side of the river. Inhabitants crossing the bridge every day as a part of their life routine. For visitors, the bridge can be very scary but at the same time very challenging. Some guests cross a few meters on the bridge, just to take a photo for Instagram, and some guests cross the bridge to the end and back. Anyway, there is a lot of fun here, and guests love this part of the tour very much.
MORAČA CANYON (maximum depth of 1000 meters)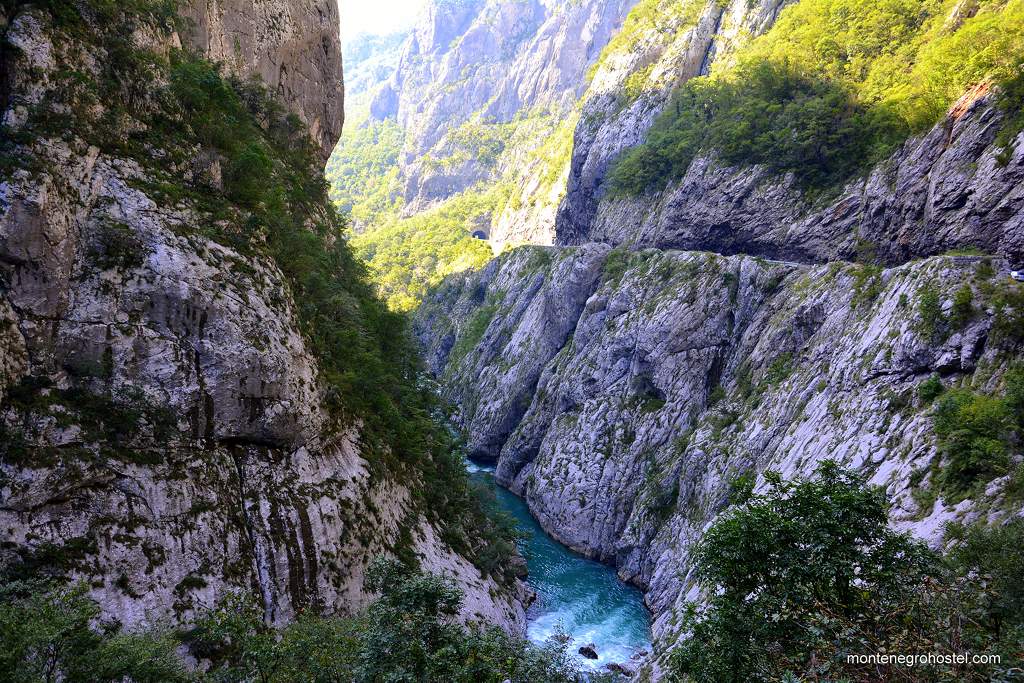 Right before the longest tunnel in the canyon of river Morača, in the part named Platije, we will make another photo-stop and then we will ride up to the top of the canyon at a height of 1060 meters above sea level. During the road, the view of Mountains Morača named "Kapa Moračka" and the canyon is breathtaking. The low population density in the country has left this entire area around Morača Canyon intact, which is precisely what made passing in the canyon so popular. When we come to the top, we will take a break in a small village called Crkvine where we will have a breakfast break.
VIRGIN FOREST CRNA PODA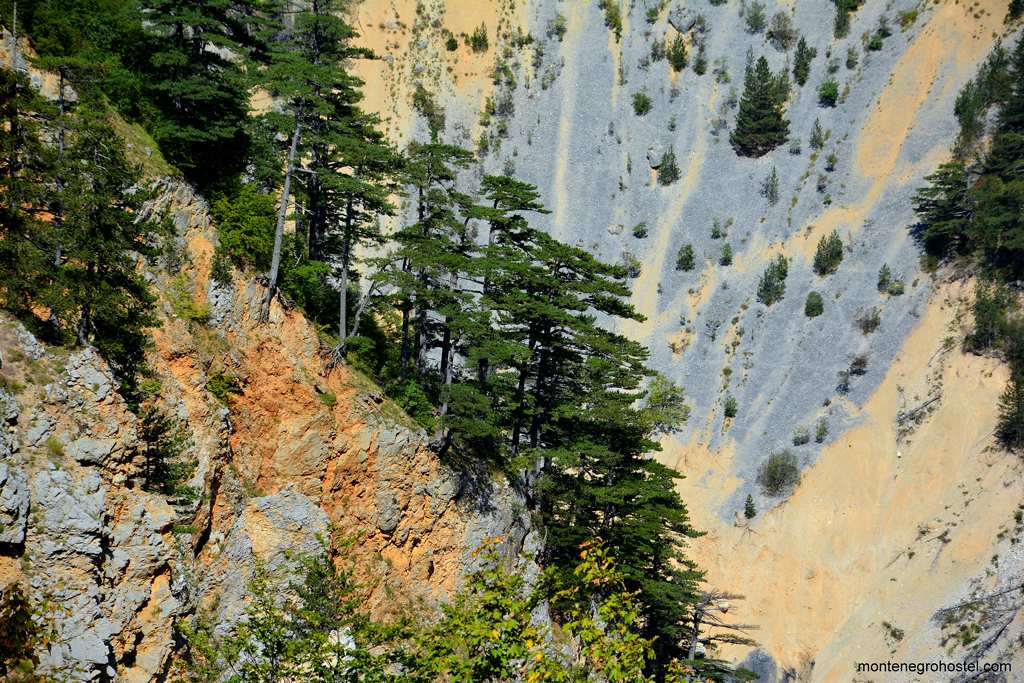 After breakfast, we will continue our way to the bridge over the river Tara. First, we will pass the town of Kolašin, then the town of Mojkovac, and after that, we will enter the canyon of the river Tara, bordered by "black pines" that literally grow out of stones and be high up to 50 meters. Right at a place called virgin forest "Crna Poda", you can see black pine trees very close, and we will make a photo-stop.
TARA CANYON (maximum depth of 1300 meters)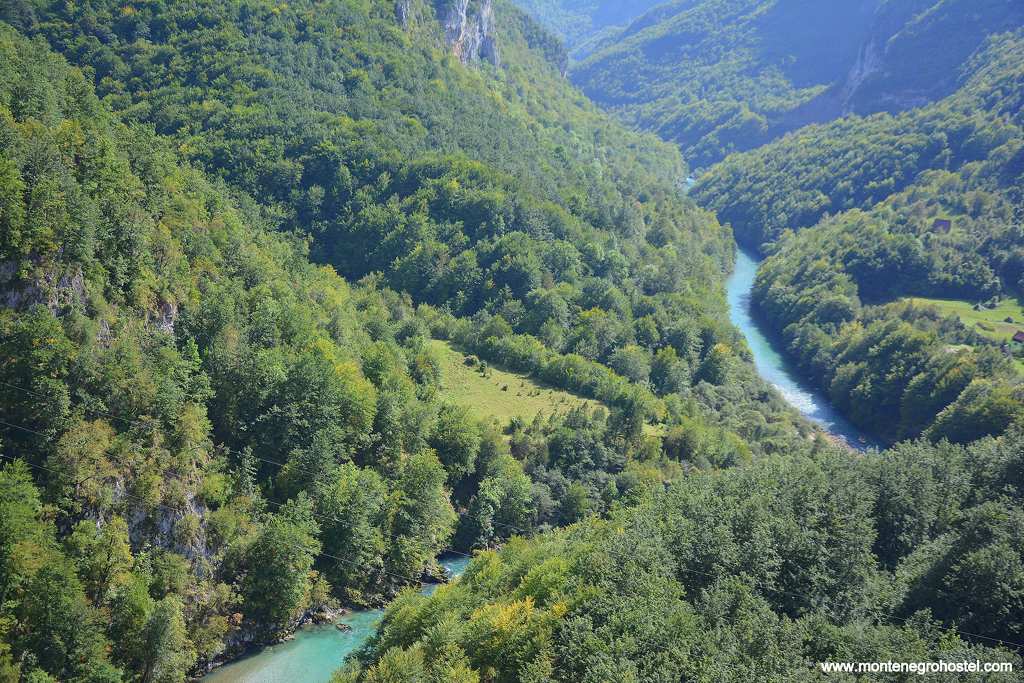 To be able to reach the Tara Bridge we need to continue our journey for more than 20 minutes via Durmitor. We will see several campsites located by the road from which rafting takes place on the Tara River, we will see a few small waterfalls, we will pass 10 small tunnels enjoying the view of the turquoise blue river, rocky cliffs, and nature-rich in greenery. And then suddenly, after the last curve, the most wanted bridge in Montenegro will appear in front of us.
TARA BRIDGE (ĐURĐEVIĆA TARA BRIDGE)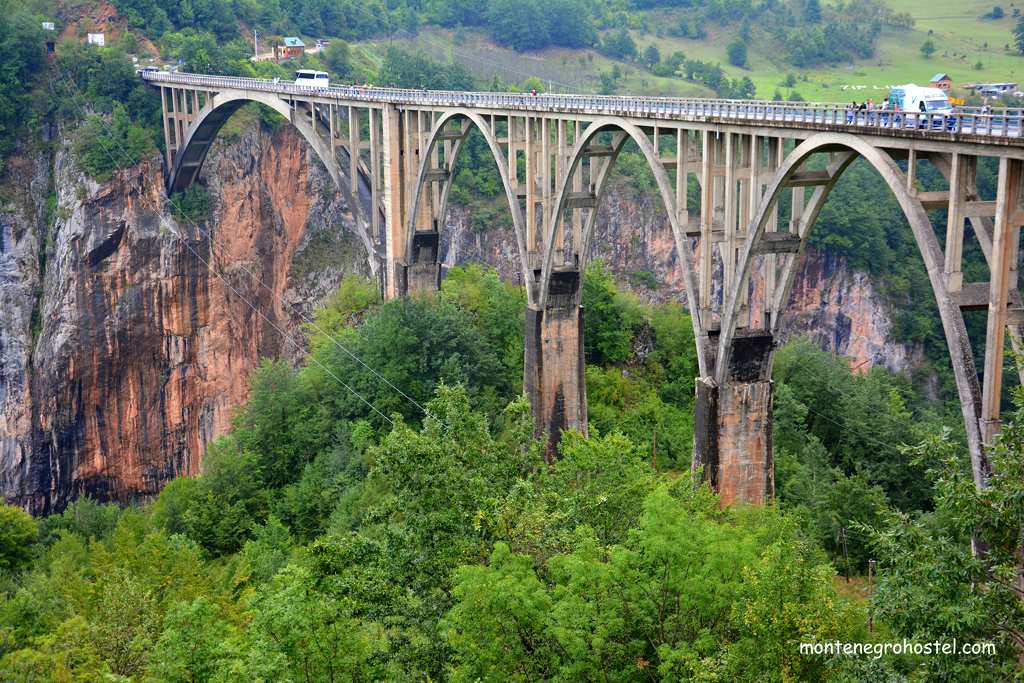 Spectacular Tara Bridge or Djurdjevica Tara Bridge was made without using any mechanization less than a hundred years ago. This hand-made bridge has a total length of 365 meters and a height is 172 meters. We will take a break for one hour, which is enough time for guests who want to take the zip line by the bridge or spend time sightseeing. Most of the guests take the zip line but sometimes at the peak of the season guests need to wait in the line to the start point. It could cause a little delay in our itinerary to Durmitor, but not more than 30 minutes.
BLACK LAKE IN DURMITOR NATIONAL PARK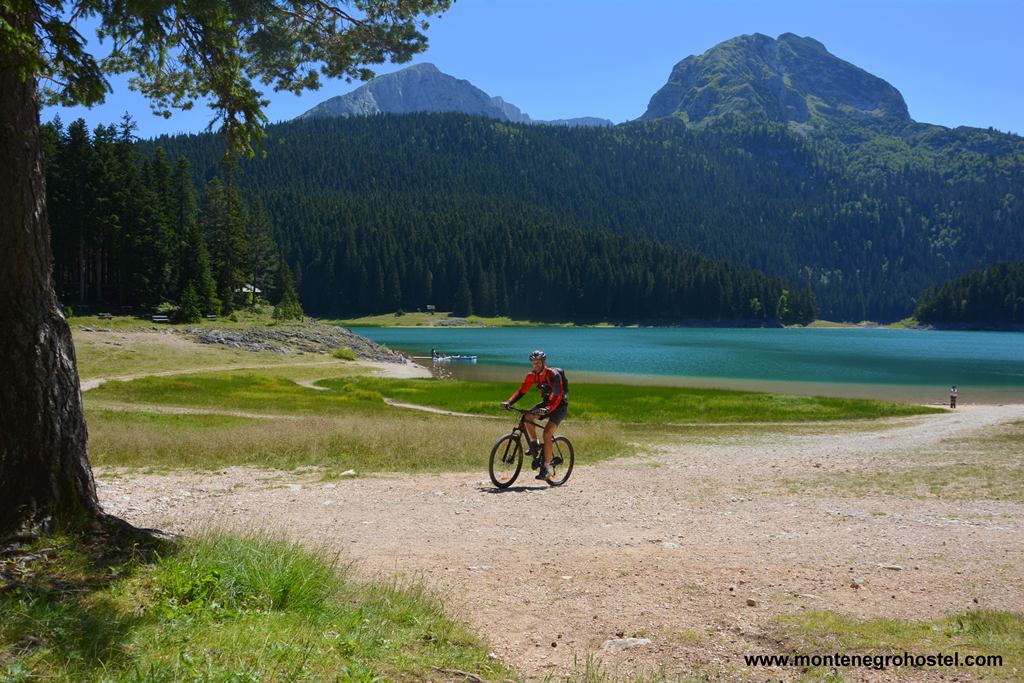 After visiting the bridge, we will go towards the Durmitor mountain massif and its most attractive part called Crno Jezero. We will reach the lake in a half-hour drive and we will pass the mountain town Zabljak. When we get to the lake, we will take a break for up to 3 hours. Everyone will have time for what they want. Those who want to eat can take lunch in the traditional restaurant by the lake. Guests who want to hike will make a circle around the lake of 4.5 km which lasts 1 hour and 15 minutes. Those who like water activities can rent boats or swim. Whatever you do simply enjoy the clean air and untouched nature.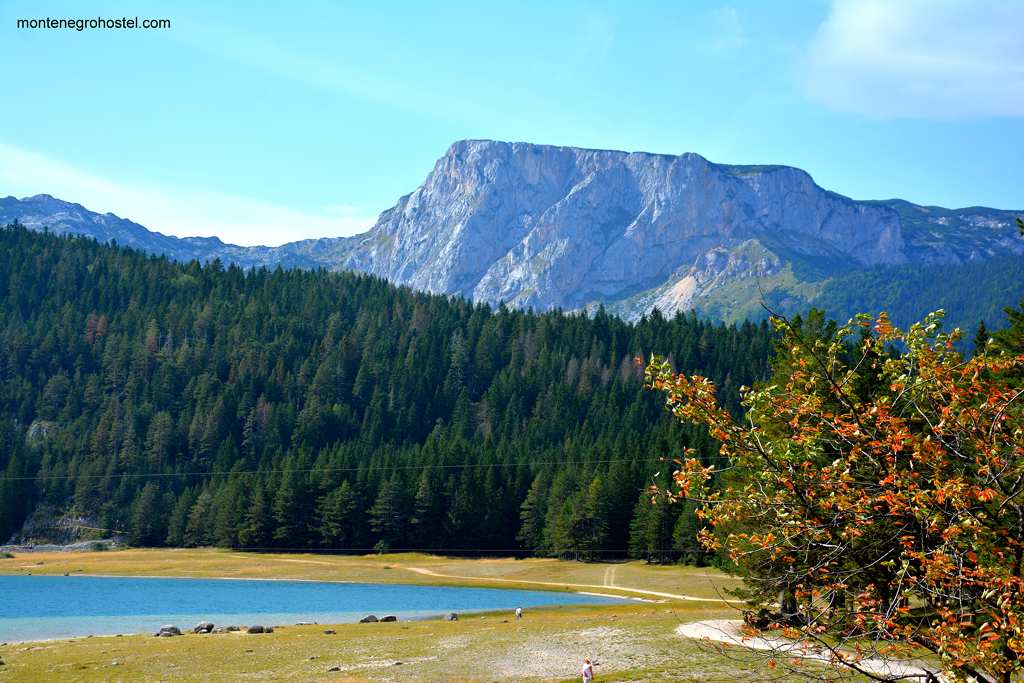 About six o'clock in the afternoon, we will start returning slowly using another route, through the plateau of Durmitor and villages Pošćenje and Šavnik. In the summer, when the daylight lasts to the early evening, the guest will be able to see an attractive Krupac Lake close to the city of Nikišić. The sunsets will make nature calm and we will go back home via fast road from Niksic to Podgorica and then back to Budva and Kotor.
WATCH THE VIDEO OF DURMITOR NATIONAL PARK TOUR AND CANYONS
MORE PHOTOS OF DURMITOR NATIONAL PARK TOUR AND CANYONS YOU CAN SEE HERE
NOTE: We can also organize a private Durmitor Tour National Park and Canyons. If you have any special requests contact us by e-mail at This email address is being protected from spambots. You need JavaScript enabled to view it.
BOOKING AND PAYMENT
Tour tickets can be bought on-line via the BOOK NOW! option, or directly at the reception of Montenegro Hostel B&B Budva (address: Vuka Karadzica 12, located in the old town of Budva GPS Latitude 42,278238 Longitude 18,837430). and Montenegro Hostel B&B Kotor (address: Stari Grad 333, located in the old town of Kotor GPS Latitude 42,424562 Longitude 18,771051). The last online booking can be made until 21:00 (9 pm) the day before departure. After that time, the ticket can only be purchased at the hostel's reception until 23:00 (11 pm) the day before departure. Guests who stay in Podgorica can book only online.
WATCH THE VIDEO OF TOUR CONDITIONS
Tour is organized by air-conditioned cars, minivans, or minibusses.
PRICE INCLUDES
Licensed tour guide in the English language.
PRICE DOESN'T INCLUDE
Entrance fee for Durmitor National Park of 3 euro
Zipline costs 20 euro (optional)
Guests can use their own food and drink (breakfast and lunch are not mandatory).
NOTE: Guests who want to bring their luggage on the tour and finish the tour in another city (Kotor or Budva or Podgorica) can easily do that. There is no luggage fee.
Before you decide to purchase the tour ticket check our itinerary and terms and conditions.
For more info about the tour and booking, contact us on e-mail at This email address is being protected from spambots. You need JavaScript enabled to view it. or by phone (Viber and WhatsApp) at +38269039751
Hope you will enjoy our tour:)

MH Travel Agency Team