TREKKING
TREKKING IN MONTENEGRO
The most renowned and most visited trekking destinations in Montenegro are Durmitor, Orjen, Prokletije, Komovi, Kuči Mountains, Bjelasica, Maglanik, and Morača Mountains. Good traffic connections, the existence of mountain administrative and tourist centers at their bases and relative recognition of their routes place these mountains in the first line of Montenegro mountaineering offer. Although you can meet most mountaineers here, proportionally, mountains are still far from being overcrowded. The combination of isolation and companionship is still possible on their slopes, according to individual desire and mood.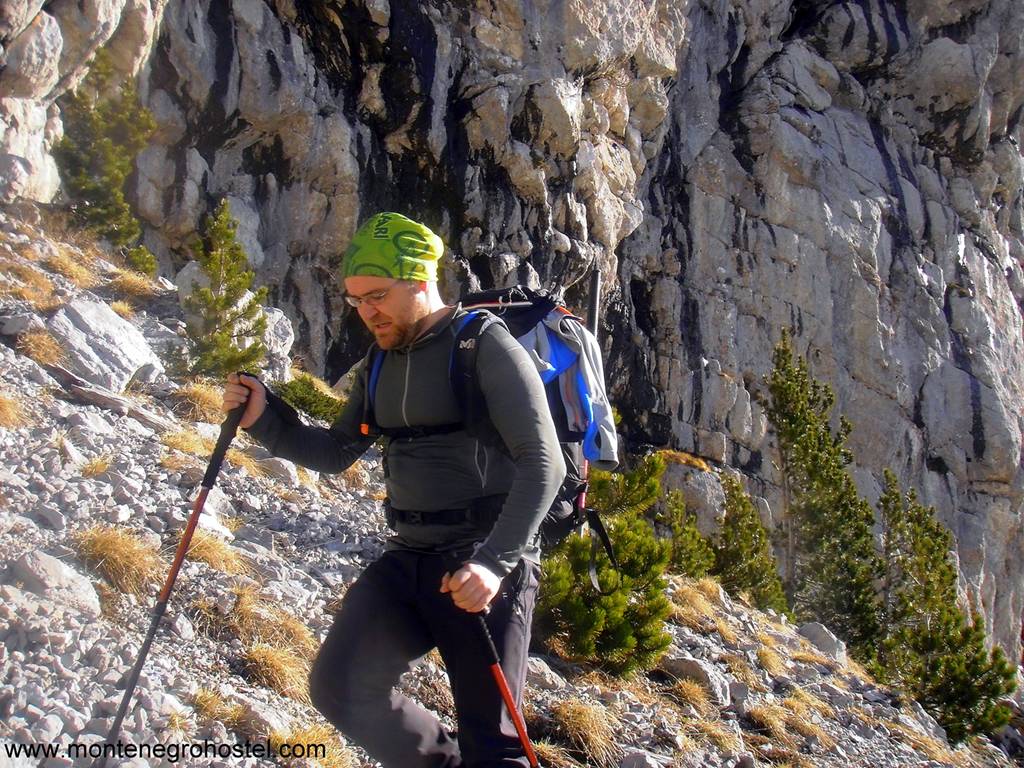 TREKKING ON mt. DURMITOR
To say that Durmitor attracts as many mountaineers as all the other Montenegrin mountains combined is no exaggeration. Among the first discovered mountain destination, with its 48 peaks of 2,000m above sea level, 15 high curvatures, 13 glaciers cirques, and 18 lakes, it has more than enough reasons for continually coming back to it. The highest peak is Bobotov kuk (2,523 m), while other peaks of outstanding attractiveness and beauty are Šljeme (2,455 m), Bandijerna (2,409 m), Prutaš (2,393 m), Minin bogaz (2,387 m), Savin kuk (2313 m), Zupci (2,309 m), Terzin bogaz (2,303 m), Međed (2287 m), Šareni pasovi (2,248 m), Crvena greda (2,175 m), Sedlana greda (2148 m), Veliki Štouc (2,104 m), Lojanik (2,091m) and Bokeljske grede (2,091 m). The largest lake is Crno jezero (Black Lake), at 1,414 m above sea level and 49 meters in depth, along with Zminje, Jablan, Malo Škrčko, and Veliko Škrčko, Zabojsko, and Vražje Lake.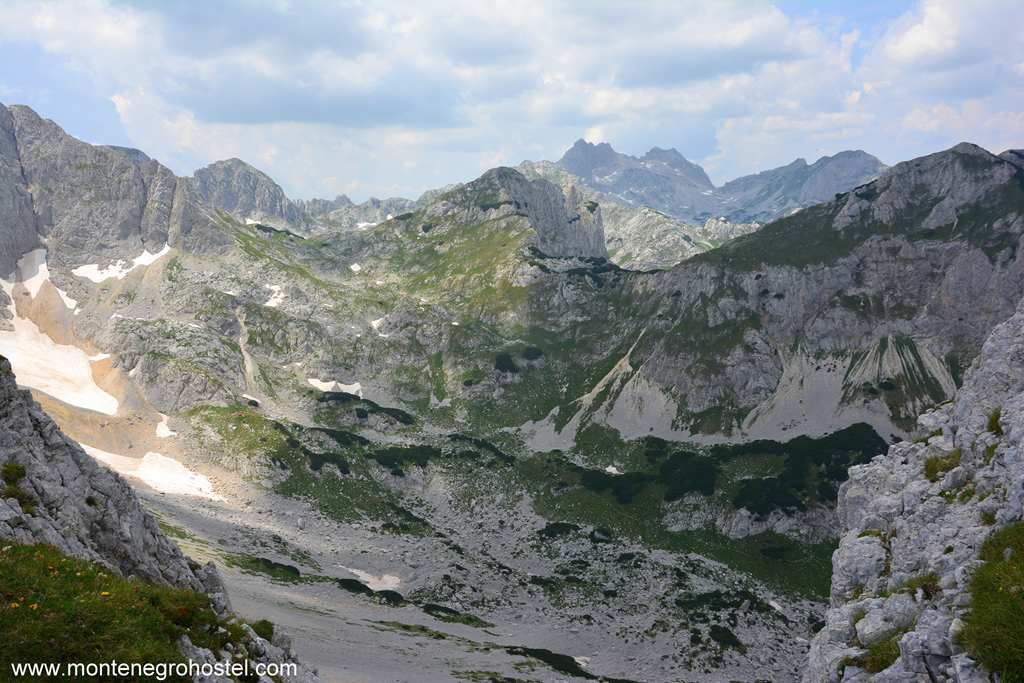 At the very foot of Durmitor Mountain is the administrative and tourist center Žabljak, from where all the roads spring up to mountains, (except to Boljska greda). Hotels, rests, camps, apartments, and rooms in private accommodations in Žabljak offer something for everyone's taste and budget. There is a seasonal home in Škrka, on the mountain, while the alpine bivouac in Velika Kalica and mountain shelters in Lokvice are open year-round.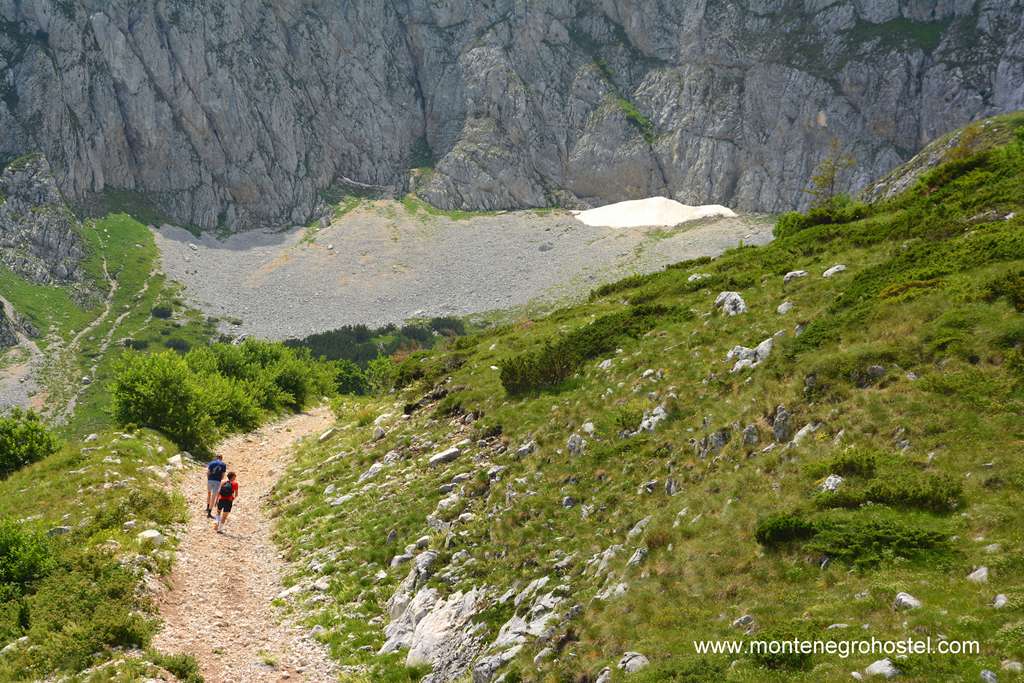 There are 27 marked and 12 unmarked mountain paths in Durmitor, and the most popular ones are winter and summer climbs on Bobotov kuk, from Škrka and Žabljak across Lokvica or Ledena pećina / Ice Cave, climbs on Međed and Terzin bogaz from Lokvica or Ledena pećina (Ice Cave), climbs on Minin Bogaz from Lokvica, on Savin kuk and Šljeme from Virka, Prutaš, Lojanik and climbs on Sedlena greda from Dobri dol on Crvena greda from Montenegro across Sušice Lake and its Canyon Sušice until Škrka. A large number of different tours with different scales of difficulty creates an ambiance for numerous trekkers with unequal physical predisposition, experience, and equipment, in summer as in winter, which still makes this mountain the most important mountaineering region of Montenegro.
TREKKING ON MT. ORJEN
Orjen massif spreads over the borders of the three countries Montenegro, Bosnia and Herzegovina, and Croatia, dominating over the entrance to the Bay of Kotor. This mountain has been a starting point for mountaineers for a very long, both from Boka Bay, as well as from the Dubrovnik area, which once built a mountain home on its slopes. Orjen's relief is a composition of characteristic shapes of Dinarides bare karst with Bosnian pinewood and many hollows, kerfs, caverns, holes, sharp cliffs, and cuts. The highest peak is Zubački kabao (1894 m), and peaks that also stand out are Pauza (1,769 m) on Reovac greda, Subra (1,679 m), Odijevo (1,571 m), Radoštak (1,445 m) and Veliko Ćedilo (1,466 m). The mountain can be reached by roads from Herceg Novi, Morinj, Risan, and Trebinje.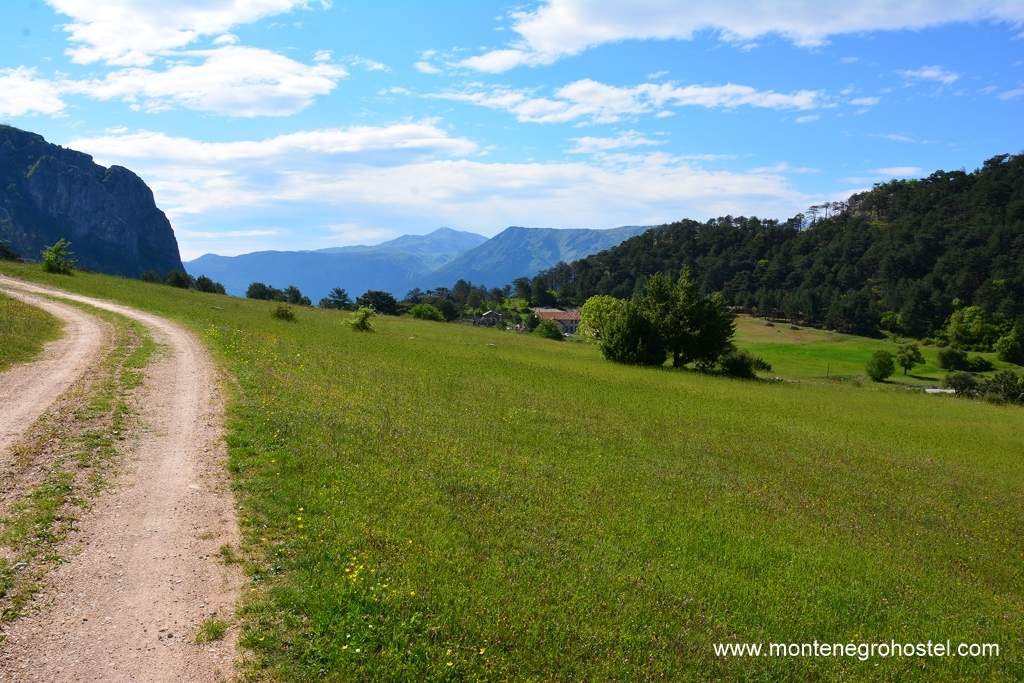 There are many very well-marked mountain tracks on Orjen. Easy hiking lines follow the paths of Austro-Hungarian military roads, like the hiking path through Krivošije-Ledenice-Crkvice, or lead to some of Orjen's peaks. From the later, climbs on Subra, Zubači kabao, and Reovačku greda stand out. An unstable microclimate with a big amount of rainfall is specific to this mountain. Starting from here is a Montenegrin seaside transversal, which leads to the coastal mountain cliffs on the line Orjen-Lovćen-Paštrovska gora-Rumija.
TREKKING ON MORAČKE PLANINE (MORAČA MOUNTAINS)
Moračke Planine (Moraca Mountains) is a name for the mountain region located in central Montenegro, with massifs Kapa moračke, Lukovice, Lola, Torna, Umovi, and Talija, located around the source and upper stream of the river Morača. Although situated in a small space, these mountains are clearly differentiated from characteristic relief shapes, like deep river gulches, valleys, and kerfs, as much as plateaus. Actually, Morača itself springs up and hides in its shadows, in the only joint denominator, something that connects and disconnects at the same time.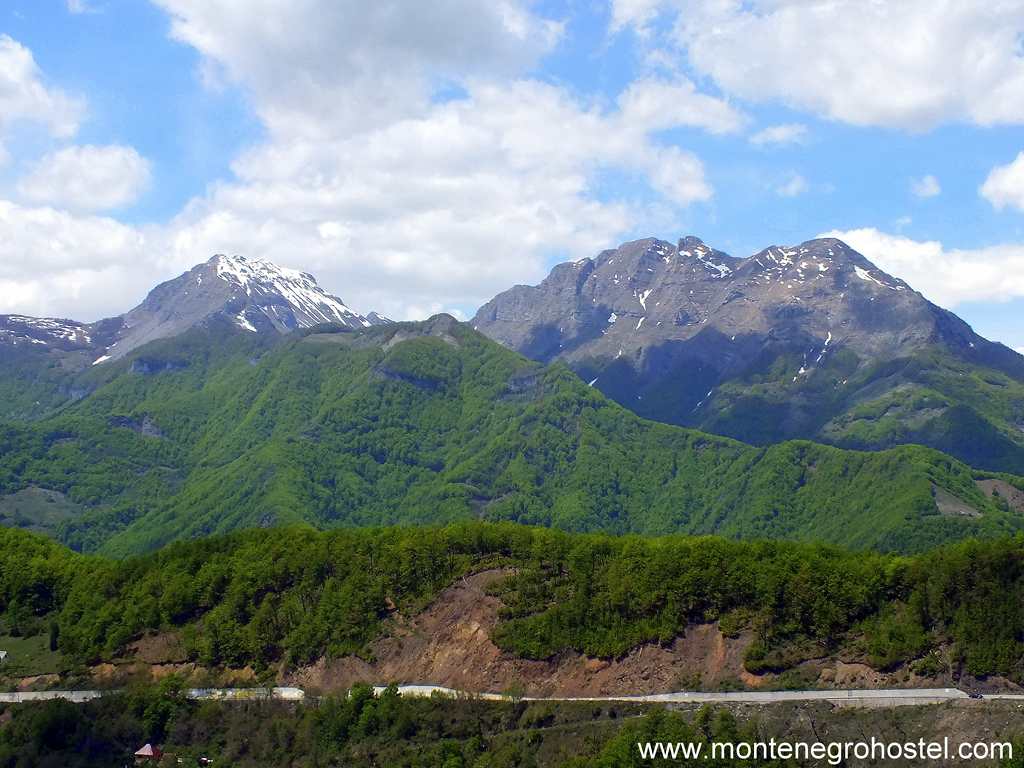 Indentation of the massif causes a great variety of road access. You can visit Torna and Umovi from the direction of Kolašin to Gornje Lipovo, alternatively from Podgorica or Kolašin through Crkvine. Lola and the north slopes of Kape Moračke are accessed by the Podgorica –Kolašin-Mioska-Dragovića Polje road, while the western slopes of Lola can be accessed from Šavnik-Strug and Nikšić-Krnovo-Ivan-Bego Katun.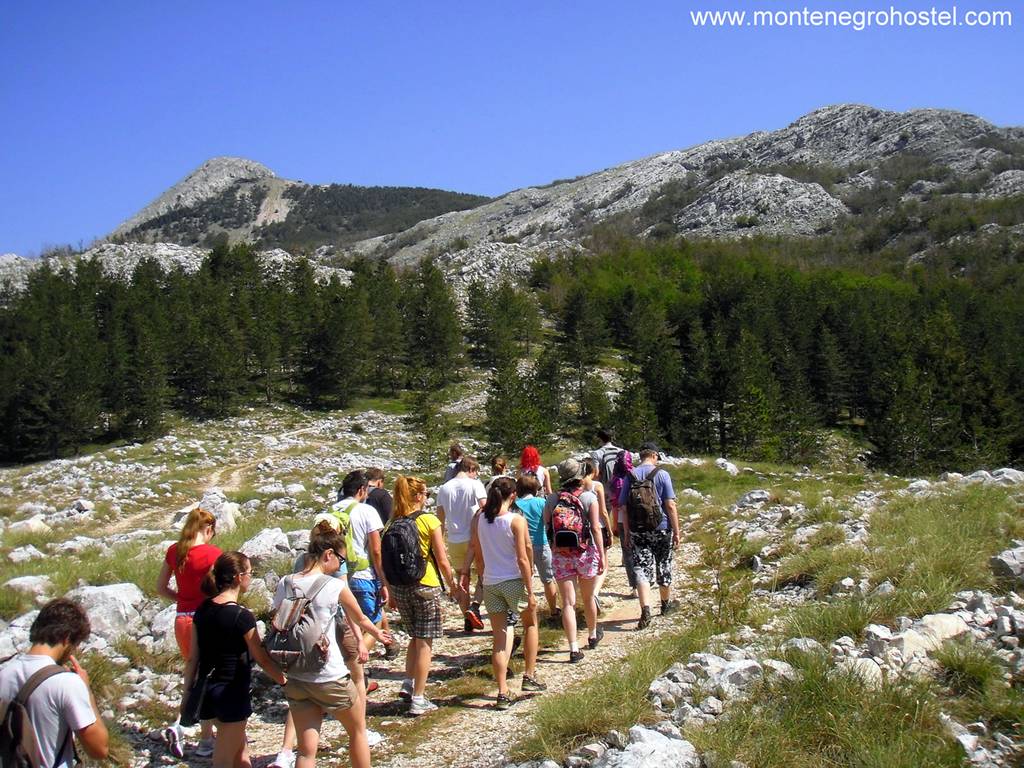 Žurima and the south slopes of Kapa Moračka are approachable from the road Nikšić-Župa-Luka Bojovića-Kapetanovo Lake and Podgorica-Kolašin-Osreci-Ropušnica.
The region offers numerous and very attractive trekking tours, mostly with climbs on peaks above 2,000 m. Standing out in their attractiveness are climbs on Torna (2,277 m) going from Gornje Lipovo, Umovi (1,945 m), from Crkvine peaks, Kape moračke, Zagradec (2,217 m), Lastva (2,226 m) and Stožac (2,141 m) from Kapetanovo Lake, Mali Žurim and Veliki Žurim (1,962 m and 2,036 m) from katun Ropušnica. Unfortunately, besides climbs on Torna or Bablji zub, which is partially marked, no path is marked with suitable mountain signs. Two glacial lakes on the south slopes of Kape Moračke, Kapetanovo, and Manito give an additional allure to this massif.
TREKKING ON MT. MAGANIK
This, at first sight, an inhospitable and impassable labyrinth of stone formations, is a real jewel for lovers of sharp and vertical mountain lines. The highest point is Međeđi vrh (2,138 m), with several popular trekking tours leading to it. For now, there are no marked paths on this mountain and navigation is difficult. But, Maganik, exactly because of that, enjoys the reputation of a real, untouched wilderness, where there is room only for the most persistent and capable. The exception is passing through Canyon Mrtvice (between Velje Duboko and Meuriječje).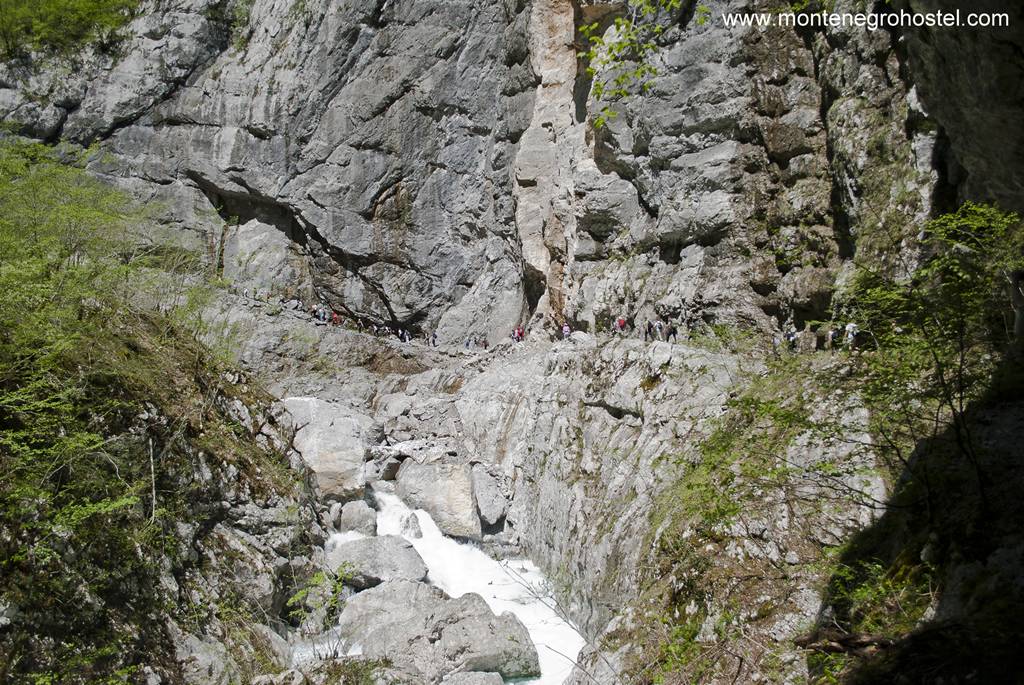 It is one of the most famous Montenegrin trekking tours. Since it is not that technically demanding, you can pay due attention, and be fully concentrated on the almost unreal beauty of the canyon. The track follows a well-marked path, cut through during the first post-WWII years, as a passage between then-segregated villages of the Rovici area. The mountain can be approached from several directions, by roads Podgorica-Mrtvo Duboko or Podgorica-Međurječje- Velje Duboko or Nikšić–Kutsko Hill-Štitovo-Rekočica and Nikšić-Župa-Lukavica.
TREKKING ON MT. BJELASICA
With different geological origins from the other Montenegrin mountains, Bjelasica stands out by its slight and round peaks, grasslands, large and abundant forests on its slopes, and glacier lakes whose beauty leaves a lasting impression. Biogradsko Lake, one of the last rainforest reservations in Europe, today a National Park Biogradska Gora, is unforgettable. There are also Pešić, Malo Šiško, Veliko Šiško, and Ursulovačko Lakes.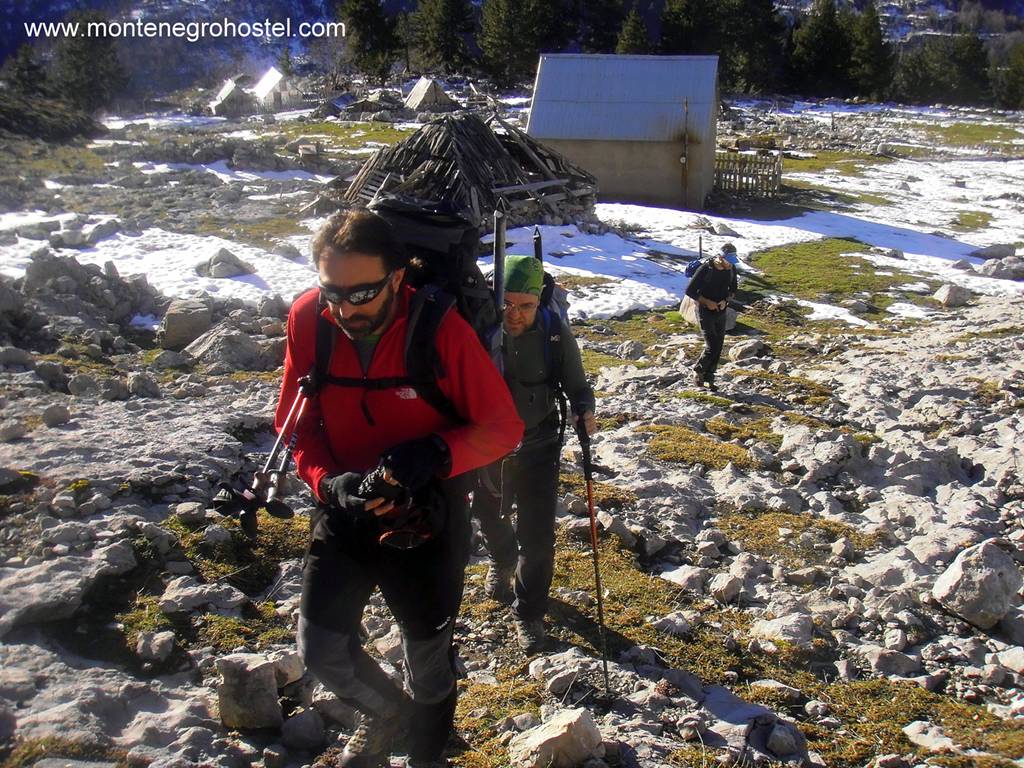 The highest peak is Crna Greda (2,117 m), and marked or unmarked paths lead to it from several directions Kolašin-Berane-Mojkovac–Bijelo Polje. Among the most popular tours are climbing on Zekova glava (2,117 m) from Biogradsko Lake, Troglav (2,072 m) from Jezerina, and Razvršje (2,033 m) from Katun Lanište. From all over, roads lead to this mountain, so you can come with a terrain vehicle close to almost every peak. Bjelasica is equally suitable for winter and summer trekking, mountain biking, paragliding, snowshoeing, and alpine touring.
TREKKING ON Mt. KOMOVI
Komovi is the third mountain formation in Montenegro by its height. It is situated between Kuči Mountain and Bjelasica. It is known for its exceptionally beautiful peaks, less accessible in winter and more accessible in summer. Komovi consists of two main groups. The first group is Vasojevićki Kom (2,460 m) with Bavan Cliff (2,252 m), and Ljevoručki Kom (2,469 m). The second group is Kom Kučki with three peaks is similar heights: Južni Kučki Kom (2,487m), Rogamski vrh (2,303 m), and Suvovrh (2,211 m). These two cliffs systems are concentrated with curvature, known as Međukomlje (2,171 m). Access is possible by the roads Podgorica-Veruša-Opasnica-Sumor-Carine, and Kolašin-Andrijevica-Trešnjevik-Štavna and Kolašin-Mateševo-Ljuban.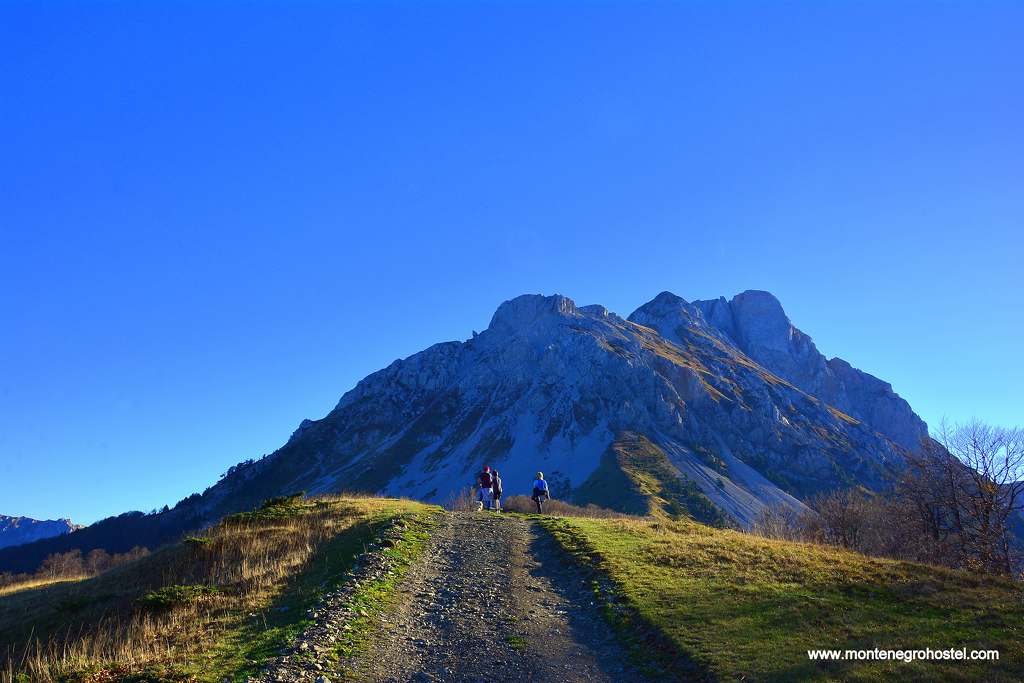 There are various tours on Komovi, and the most famous ones have marked climbing lines on Vasojevićki, Kučki, and Ljevoručki Kom, as well as the partly marked round and the around the whole massif, which starts from Katun Štavna, as the foot as Vasojevićki Kom. All tours in this massif should be taken very seriously, because of the exposure to the terrain and because of the real danger of losing parts on peaks and cliffs. Here is noticeable is the difference in the demography. While katuns (shepherd's houses) on the north side are relatively well inhabited, empty cabins on the south side of Kuči are the only witness that people lived here once. At the foot of the mountain peak Sumor (south slopes of Komovi), one of the most beautiful mountain churches in Montenegro was built. Simple and fitting in the mountain ambiance, it looks just like the first step from the earth to the sky.
TREKKING IN THE MOUNTAIN REGION KUČI
To the northeast of Podgorica, next to the Albanian border, is the mountain region Kuči. It is defined by enormous intended relief, with numerous valleys, rocky cliffs, over 15 peaks at over 2,000 meters above sea level, and several glacial lakes, among which the biggest and most famous ones in Rikavačko and Bukumirsko. Parts of massif Komovi (Crna planina, Maglič, and Sovrh) as well as the entire massif Žijeva. In general, this area is treated as part of the Prokletije range. The mountain landscape varies, from areas of bare karst with Bosnian pinewood at the south to the beach wood in the north.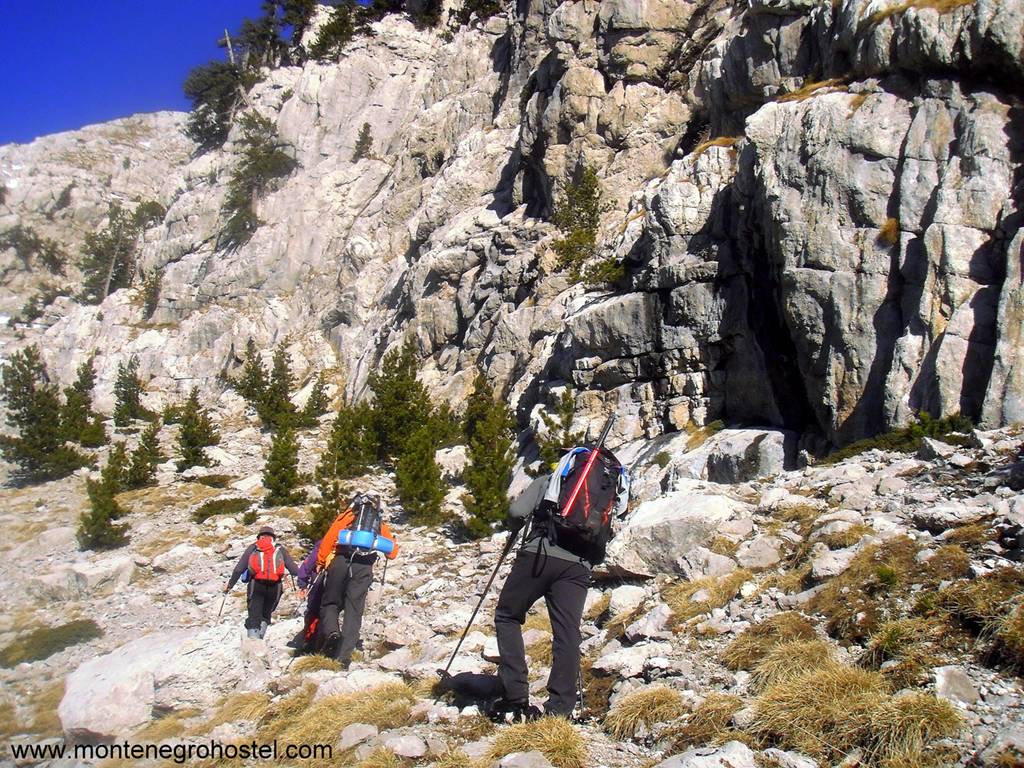 Access roads left from Podgorica or Kolašin and there are several of them: Podgorica-Lijeva Rijeka-Veruša-Širokar and Podgorica-Lijeva Rijeka-Brskut-Bukumirsko Lake-Širokar and Podgorica-Ubli-Kržanja-Kastrat-Bukumirsko Lake-Širokar and Podgorica-Ubli-Rikavačko Lake-Širokar. From Kolašin you can arrive by Kolašin-Veruša road. Roads from Veruša, Brskut, Kastrat, and Korito are asphalted, the following macadam is of unequal quality.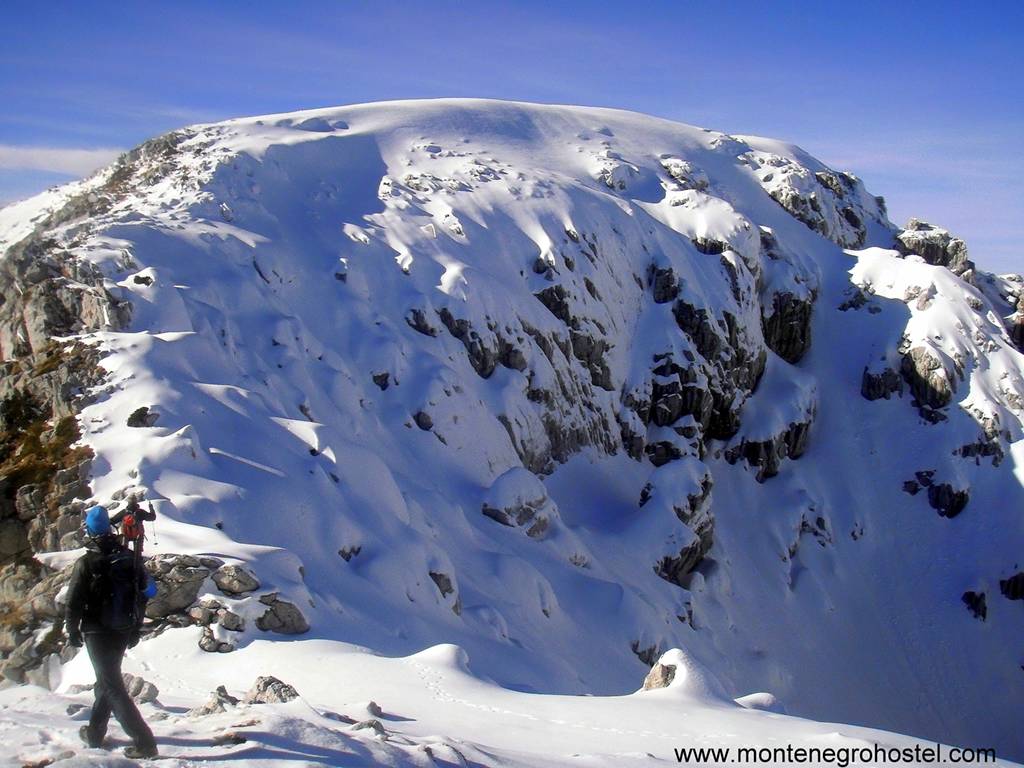 The most popular tours in this area, depending on the time of the year, physical preparedness, and group organization, refer to the surroundings of the peaks in the region of Bukumir Lake-Pasjak (2,051 m), Surdup (2,184 m), and Štitan (2,165 m), area of Rikavičko Lake with dominant peak Vila (2,093 m) and mountain cliff Maglič, with peaks Lumer (2,141 m). All these peaks are accessible in summer as in winter, although winter climbs on Vila and Pasjak demand advanced knowledge of alpine climbing techniques in winter conditions, more equipment, and long experience.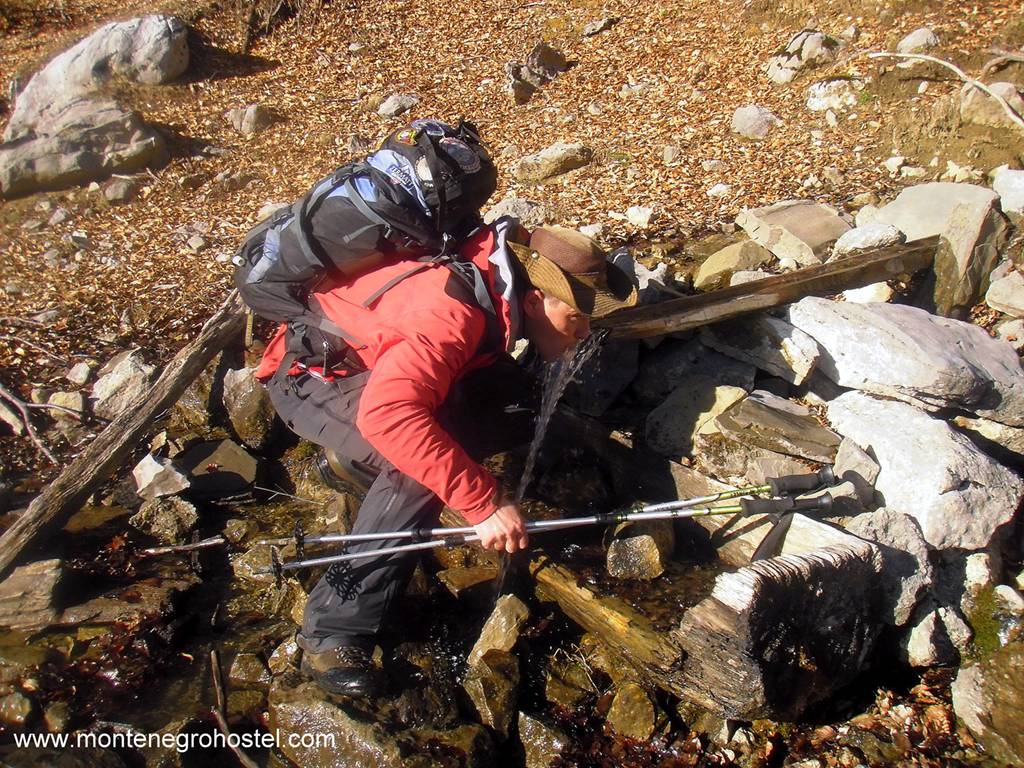 Several directions on the mountain are completely or partly marked climbs on Žijevo (2,131 m), from the west side, Velja Šila (2,022 m) from Kastrati, Treskavac (2,024 m) from the northeast going from Momonjevo, Šitan, Surdup, and Pasjak from Bukumirsko Lake and Maglič from Širokar. The rest of the paths, like climb on Vila and Štrungeze (2,053 m) from Rikavačko Lake, Vilijar (2,121 m), Treskavac, Surdup, and Šila from Trepetljikov dol, or Smojan (2,024 m) going from Koštica, are not yet marked with mountain although they are quite visited.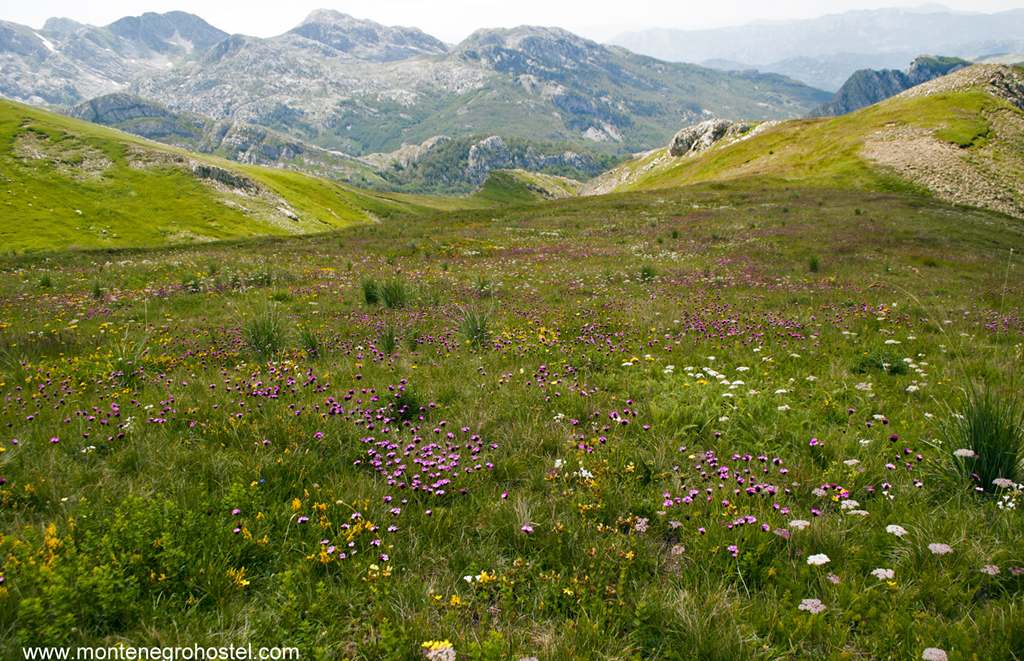 For those whose goal is not exclusively reaching peaks, it is possible to spend more days on a trekking tour, whose longest version starts at Korita, leads across Koštica, Rikavac, Širokara, Maglič, Kozelj, Konjski rob, and Sumor to Carine at the foot of Kučki kom, partly concurring with and old transversal CT1, that leads from Veruša across Komovi, Bjelasica, and Sinjajevina towards Žabljak. The sector is marked, and it follows a line of macadam road from Korita towards Rikavac and further to Širokara, which is from Konjski grob (Horse Grave) to Carine. Two to three days are needed for its crossing, depending on the physical preparedness and the weight of the rucksacks.
TREKKING ON MT.PROKLETIJE
A very small part of the massif Prokletije belongs to Montenegro, but the heights and beauty overwhelm all the other local mountains. The relatively narrow area in the northeast part of Montenegro, along the Albanian border and on the territory of towns Gusinje and Plav, hides many secret paths harder to reach, but more and more visitors.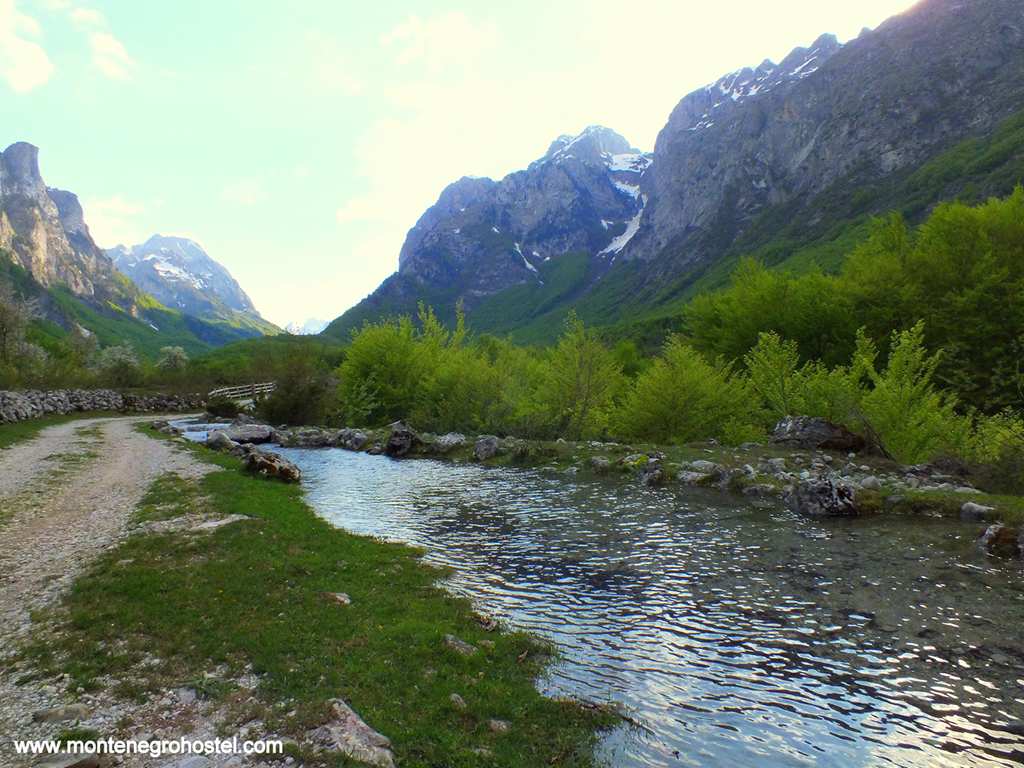 The Montenegro Prokletije consists of a few minor massifs, separately by deep mountain valleys. Those are the massif Trojana (2,189 m) in the west, then Karaula group (1,975 m), Popadija (2,057 m) and Volušnica (1,879 m), crest Karanfil-Vezirova Brada with peaks Sjeverni vrh (North Peak) (2,460 m), Srednji vrh (Middle Peak 2,490 m) and Južni vrh (South Peak 2,441 m), Očnjak (2,185 m), Hadžijino brdo (2,028 m), Obla brdo (2,028 m), Karanfili Ljuljaševića (2,240 m), and Podgoj (2,119 m). Also Bjelič, with the highest peaks in Montenegro: Maja Kolata (2,528 m), Zla Kolata (2,534 m), and Maja Rosita (2,525 m). Valley Grabaja segregates Volušnica from the cliff Karanfili-Vezirova brada, while Rapojana segregates this cliff from the massif Bjelič. Mountain peaks are reflected in several lakes, among which the largest one is Plavsko Lake and at the highest point is Hridsko Lake, while streamlet Grlja supplements the hydrologic segment, with its source in the valley Ropojana, known as Savino oko (Sava's Eye) and the river's canyon of exquisite attractiveness, from which flows out under the name Ljuča.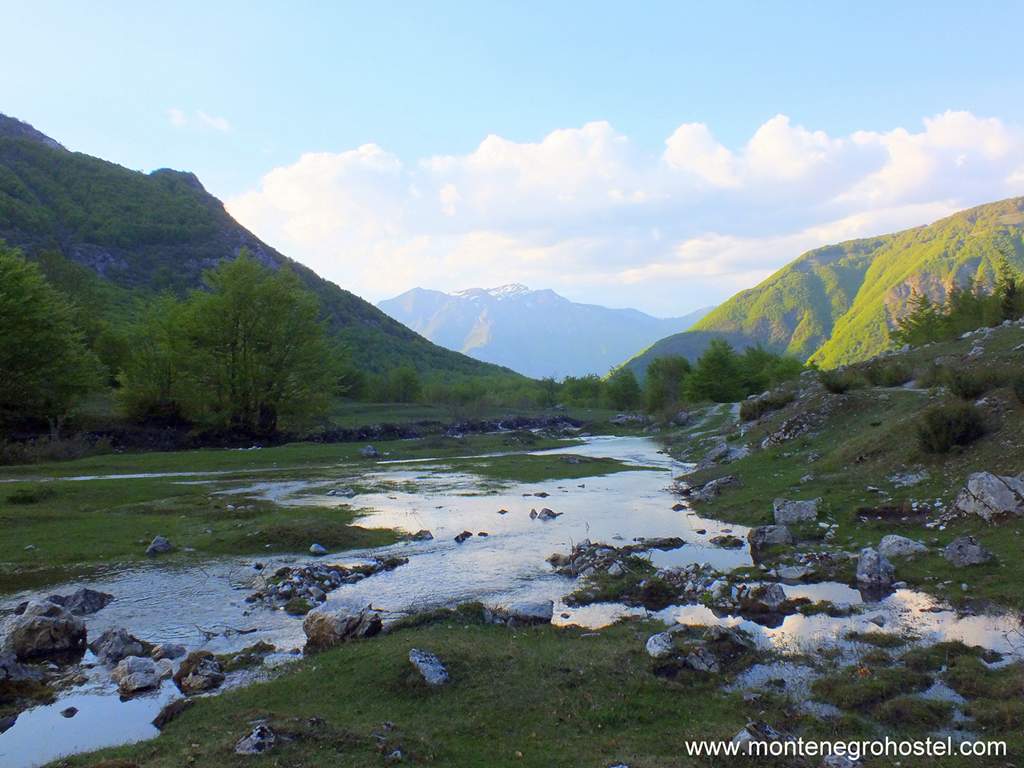 The first slopes of the mountain can be reached by roads Gusinje- Grbaja, Gusinje-Vusanje-Zastan, and Plav-Babino polje-Hridsko Lake. The most popular trekking tours of this region lead to some of the aforementioned peaks. From the valley Grbaja marked paths lead to Volušnica, Karaula, Talijanka, and Popadija, through Krošnja on Hadžijino brdo (Hadžija's hill), North (sjeverni) and Middle (srednji) peak Karanfil (carnation), and through Ljubokutić to the Očnjak and Karanfil Ljuljaševića. Worthy of attention is the even shorter tour to Donje Kotlo, beneath the west side of Sjeverni vrh (North Peak) which ends in an unreal ambiance, surrounded by hundred-meter-high vertical cliffs. From Ropojana, the tour leads across Zastan to Maja Rosit, which is across Žarunica and katun Grlate at Maja Kolat. From Hridsko or Ridsko Lake, the climb lines lead to the peaks Bogićevice Hridsko krš (2,358 m), Krš Bogićevice (2,374 m), Pasji vrh (2,405 m), Starac (2,552 m) and Maja Rops (2,501 m). For those whose main goal is not reaching the peaks, hiking through Grbaja, Ropojana, or terrain around Hridsko Lake (especially suitable for those in not such good shape or less equipped) will bring nothing short of a fairytale atmosphere in the surreal beauty of the area. In winter conditions most of these tracks represent serious alpine climbs, but there are easier and less dangerous tours like Volušnica, Popadija, or Kranfil Ljuljaševića.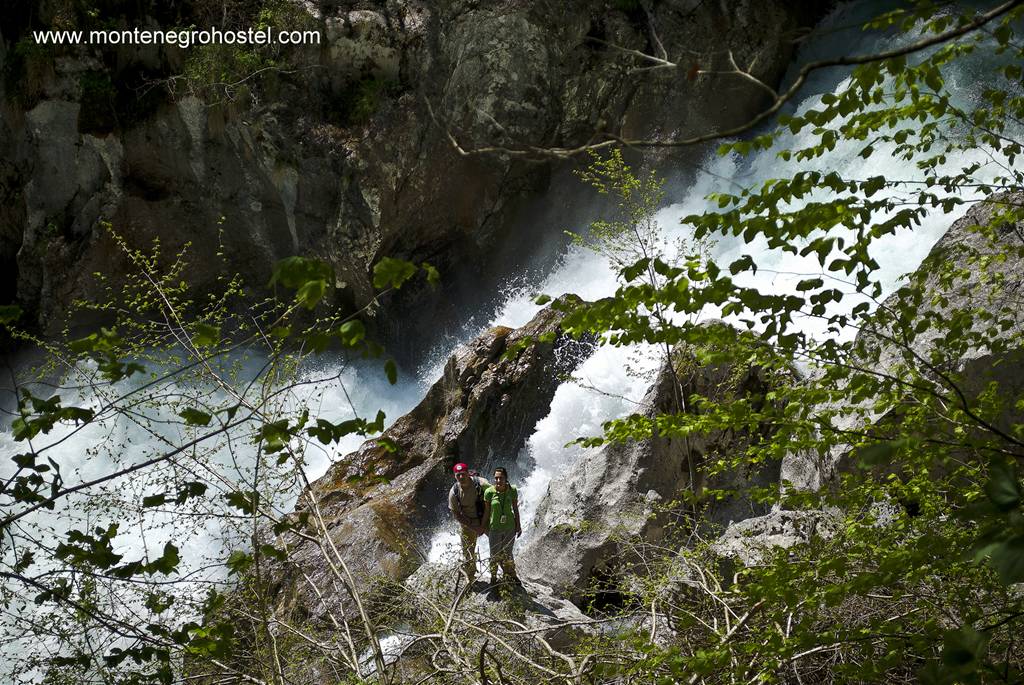 TREKKING SEASON
All four seasons create good conditions for diverse trekking activities. Winter months, especially in higher mountain areas, provide an excellent milieu for long tours on snow and climbs on peaks, of the same color as clouds. Although it is not a general rule, the end of winter and the beginning of spring are the best periods for winter trekking, because of the largest amount of snowdrifts and their stability firmness. Unfortunately, the closeness of the sea brings rapid penetration of warm and wet air, frequent rainy periods, and thereby, aggravated conditions for all sports activities in the open. This is especially important for mountaineers because it increases the danger of avalanches so sometimes it is impossible to plan winter mountain action long term. The recent trend of warmer winters does not favor any of those activities, but the trekkers are perhaps the least touched category. Regardless of winter conditions, some lines will be fine, some climbs possible and some paths passable. The choice is so big, that you will always, with the least acceptable weather prognosis, be able to enjoy the surroundings of local mountains, with the snow sputtering and crunching under your soles.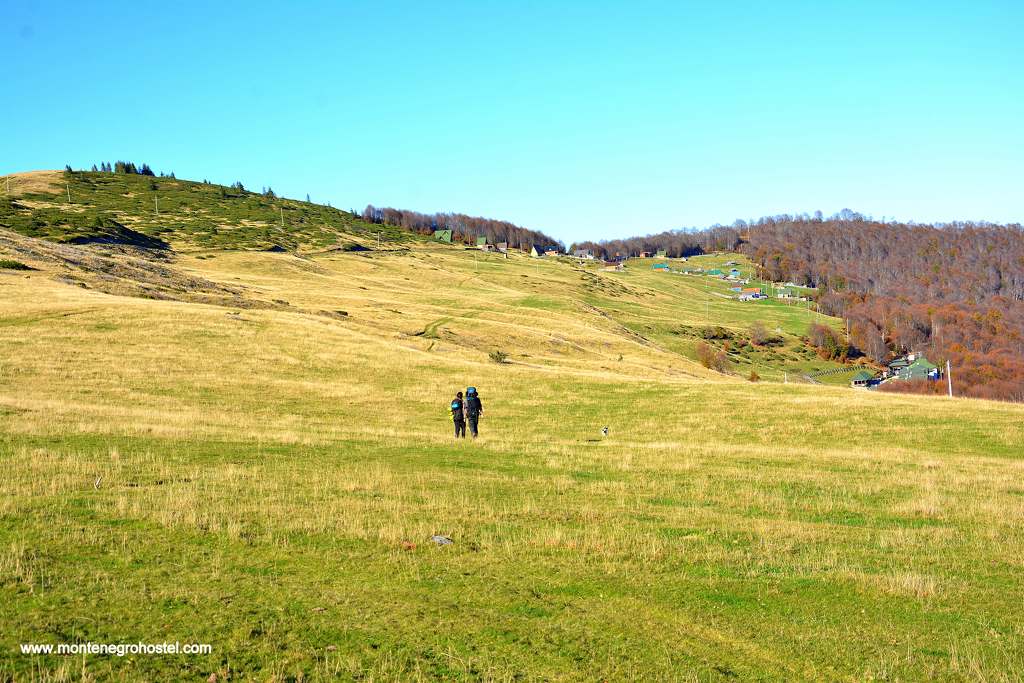 Spring, summer, and autumn, each in its own way make the story easier or harder. Temperatures are generally above average, which is not bad in spring and autumn, but in summer it sure is a problem. On the mountains, spring is maybe an ideal period, with the best conditions for the most diversified experiences, with the most persistent snowdrifts, flourished greenness of young leaves, and warm sun that is still not too hot, while the day is long enough for planning some longer tours. Autumn is the time of the most beautiful colors and light but with shorter days and frequent rains. The summer months, when most people visit the mountains in Montenegro, bring severe heat, which is more bearable in high altitudes. During that time, trekking along Komovi, Prokletije, and Durmitor is not only a matter of hobby but also a shelter from the heated city's concentrate, such that you need a jacket or sweater in the evening. As much as the days are warm, night always brings coolness for a refreshing sleep.


Montenegro Hostel Team