Hiking From Lučice Beach to Buljarica Beach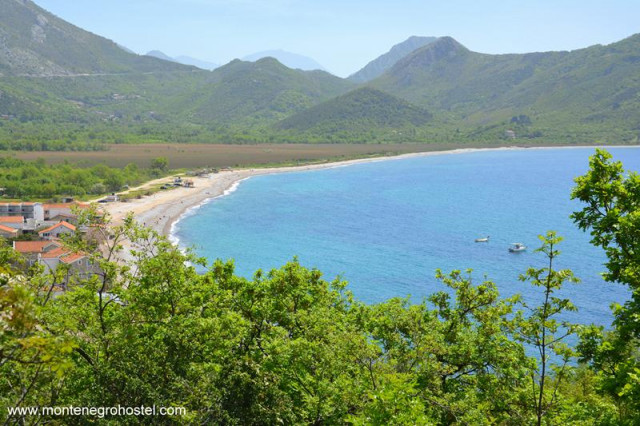 Every weekend, especially on holidays, our small but very curious team explores numerous Montenegrin hiking trails, beaches, fortifications, monuments, monasteries, natural attractions, caves, etc. This weekend we decided to take the path from the beach Lučice, which is located in Petrovac, to the beach Buljarice, the second largest beach on the Budva Riviera.
Orthodox Easter was on a Sunday the 2nd of May, and it is customary to say that a red egg from the previous Easter that we call a "čuvarkuća" (guard-house egg) should not be thrown in the trash but should be returned to nature. We took three guard-house eggs from the previous Easter and decided to return one egg into the ground, another to the sea, and a third into the beach. With this little ceremony of returning eggs to nature, we set off on a concrete path between two beaches Lučice and Buljarice, over a small hill of 80 meters of altitude.
Although the trail is moderate and passes through a beautiful forest full of Mediterranean plants, the climb on short sections is intense and ideal for a good warm-up. At the top of the trail is an open-air gym with several benches located in the shade of a pine forest. It could hardly be a more ideal choice for an outdoor exercise area on a hillside between two beaches.
The outdoor gym has a view of the slopes of Paštrovska mount, and only a few meters lower opens a view of the 3 km long beach Buljarica, which in 2018 became known as the venue for the popular music Sea Dance Festival. This pebble-sandy beach is still one of the Montenegrin potentials that have not been fully exploited. In the hinterland of the beach, there are several guesthouses with apartments, and a small settlement that out of season has a little more than 100 inhabitants. Perhaps thanks to the fact that there is no developed tourism, Buljarica boasts a beautiful, crystal clear sea of the first category.
We couldn't resist to lay down on the beach and take a sunbath. We didn't want to swim because the sea was mildly wavy and still a bit cold, but in less than a month, swimming will be our daily routine until the beginning of November. Here we returned one Easter egg to the sea, and after that, we started to go back to the Lucice beach by the same concrete path, although there is an alternative forest path that is a bit shorter.
Next to the trail, we returned to the ground another Easter egg, and finally, when we came to the beach Lučica in its part that children love the most because there is a small natural pool with a water slide, we buried in the sand the third Easter egg. Our wishes were that the beach will be full of children again with their laugh and joy, that sea to be calm and nature as rich as possible in its lush greenery.
It was a wonderful experience that was especially enjoyed by our youngest team members. We were especially pleased with a few campers from France, Germany, Latvia, and England. Life is returning to normal again, tourists are coming and that is the wish of all of us here. To live again the life we are used to and that we love so much.
For tourists who would like to see the beaches of Lučice and Buljarica and walk along the hiking trail, these are the directions:

Lučice beach is on the south side of the town of Petrovac near the primary school, police station, and football stadium. Parking costs 3 euros a day ticket only in the summer season. In off-season is free of charge.
The trail is located on the left side of the beach where is a children's playground and a water slide.
The trail is 1 km long and it takes about 30 minutes to reach Buljarice beach. The open gym is 500 meters from the start of the trail.

Montenegro Hostel Team
By accepting you will be accessing a service provided by a third-party external to https://montenegrohostel.com/